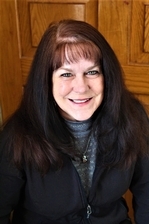 715-502-9122
715.292.6499 fax
715-502-9122 cell phone

PamGreen@AIJennings.com
315 Turner Rd
Ashland WI, 54806
Receive Email Alerts from Me
Pam and her fiancé Jim live in Chetek on Lake Pokegama with their Silver Lab, Birdie and their Chocolate Labs, Parker and Ollie. A transplant from Neenah, Pam has learned to love living on the water. The quiet setting of their home provides the serenity and peace that makes it feel like you're on vacation everyday of your life.
Pam has a very diverse background.  She's worked as a mortgage lender for Chase Bank, a Beef Cattle Farmer, Small Business Owner, and Account Manager for Advantage Marketing.  Each of these careers have given Pam the experiences that make for a knowledgeable Real Estate Agent.  If you're looking for that farmette in the country, your first small business, or that piece of hunting land in the woods Pam can bring a unique perspective to your buying or selling experience.
"I love working in Real Estate and helping people realize their dreams.  I find it so rewarding to take on such an important purchase or sale as a property – one of a person's most valuable assets.  Having an agent understand that importance and to take the time to ensure that the transaction is done right are my best attributes.  An attention to detail and great communication is what I'm good at."
Pam also has a very diverse list of hobbies.  Her and Jim have flipped 3 houses and love restoring homes that needs a little love.  She has owned horses, chickens, and bees, each of which, can be ornery one day yet lovable the next. Pam also loves to knit new baby blankets and loves Christmas.
Pam and Jim share four accomplished children. Pam's son and daughter live in Chetek, and Jim's daughters live in Minneapolis and Madison.  Pam hopes to have all of them together soon for holidays, which can truly be a house full, especially if they are with their significant others, 6 additional labs, and our grandchildren Emily, GoGo, and Gavin.