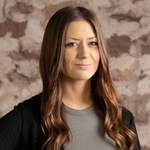 715-292-6513

715-209-1275 cell phone

marketing@aijennings.com
315 Turner Rd
Ashland WI, 54806
Receive Email Alerts from Me
Ashley was born and raised in Ashland, WI where she got a job at the Breakwater Restaurant at the age of 15. She graduated Ashland High School a semester early at the age of 17 to be able to work more and save money to attend college at UW-Milwaukee. A couple years later, she realized the half a million populated city wasn't where she wanted to be. Not having graduated yet, and not being able to move back to Ashland, she transferred to UW-Eau Claire and graduated with a Bachelor's Degree in Business Management and an International Business Certificate in May 2020.
Ashley wanted to move back to Ashland to be closer with her family and closer to all the natural opportunities Ashland and the surrounding cities have to offer. She really enjoys hiking, whether it's an easy trail such as Houghton Falls in Washburn, a moderate trail such as St. Peters Dome in Marengo or a difficult trail such as Lakeshore Trail in Cornucopia along Meyers Beach. To her the Northwood's is an important factor to keeping her active and healthy.
Although, Covid-19 was still occurring, Ashley luckily became the Office Administrator at Apostle Islands Realty where she started taking an online class to get her realtor license. After five months, she was moved to the owning brokerage, Anthony Jennings & Crew Real Estate, where she has taken on more responsibilities. With the class and roles she has, she is excited to get more insight and be a part of how the world of real estate functions.